About Limes plus
LIMES PLUS is the first Croatian company specialized in catalogue sale of office equipment. Since the company was founded in 1991, we have been trying to develop a special way of doing sales as well as maintaining excellent relationship with our customers. Our main idea was to offer on the market quick, cheap and simple purchase of all that is needed in the office. We have successfully managed to achieve that goal enabling our customers to supply themselves fast and spend their precious time efficiently on income-related activities. Our customers are also offered a number of special services that significantly speed up the whole process of purchasing and at the same time make it simpler and cheaper.
From its very beginnings, the company started with issuing catalogues offering a wide range of products that could be ordered via telephone and fax. In 1998 we issued our ninth catalogue printed on 84 pages - the first that was coloured - at the same time with the web catalogue displaying coloured photos of the items, their description and prices for on-line ordering. At those times these were the pioneering projects of that kind.
In January 2020, our most recent catalogue on 360 pages was issued and it has been available ever since. The web-catalogue is also continually being updated and new functions are added in order to make purchasing easier and faster. You're just looking at our most recent version of it, which has been available since November, 2006. This version offers some new functions that are listed below:
the favourites (the customer creates his/her own list of items that he/ she buys most regularly);
an overview of old orders (which the customer can reuse when making a new order, or shift some items under «the favourites» option);
an overview of the status of the order (with details containing the time when the offer was taken, sent for packaging, packaged and delivered, together with the number of package);
supplies list (the wizard lists down supplies for a particular device).
Our service has always had an emphasis on quality, and over the past years we have imposed a number of procedures and tools to provide a real pleasure of ordering office stationery. As confirmation of that, in May 2008 we've made quality system ISO 9001:2000 and in 2010. we have received Superbrand award.
Our offer consists of more than 7000 top quality items from reputable producers at competitive prices. Your orders can be taken by phone, fax or via the Internet and will be delivered within 24 hours free of charge throughout Croatia. At the moment we have 40 employees and deliver goods regularly to more than 6000 customers.
In March 2010 we moved to a new 3500 m2 distribution centre in Novi Zagreb with call-centre and warehouse. With new processing and delivery equipment we can deliver around 500 orders per day. This enables us to be fast and to provide top quality service. We believe this is going to make our customers even more satisfied.
Therefore, if you'd like to work with us, or just get to know us better, feel free to call or e-mail us, or simply - stop by for a cup of coffee.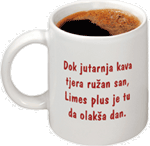 LIMES PLUS d.o.o.
catalogue sale of office supplies